Awards season!!!!!!!!!!!!
The People's Choice Awards was last night, and it kicks off the 2014 awards season! My favorite thing about this is the gowns, the hair, and the hot dudes in suits! Now I wasn't too stoked about this cutting into my
American Horror Story:Coven
time but whatever......
Loves:
One:
Nina Dobrev in Jenny Packham
I mean, honestly, this girl can do no wrong in the style department in my eyes. She's a big fan of Jenny Packham and has worn some great looks by her before, but the simplicity of this is great but the fit is what is epic on this one. Nina has a bangin body and the fact that this is fit perfectly and hits her right below the knee makes this look both flattering and timeless. The hair being off her face is perfect for the design on the dress and the silver shoes are a great touch too.
Two:
Adelaide Kane in Rhea Costa
OK A. how freakin gorgeous is this girl to begin with?! I mean she's a young, up-and-coming star on this new CW show Reign and this is the way you show up to your first real red carpet ward show. The cut outs on the dress are sexy but understated, which is very Selena or Taylor of her. White is incredibly difficult to pull off, usually something doesn't look right but the color with her skin and makeup looks perfect, and I ADORE the pop of color with the green clutch. I would do one thing differently, and that's the shoes, they're a little too Easter Sunday for me, but other than that, this is stunning!
Three: Britney Spears in Mikael D
Yep, Brit-Brit isn't known for her fashion sense or style choices and on anyone else this may not have worked, but for her, it's awesome. I love seeing her in a well fitting/flattering dress and the nude shoes were a great choice as well. I think the hair color, the spray tan along with the nude underlay of the dress make her just look like a goddess. I love it, and I love that she won, and if there isn't a picture of her and JT from last night I'll be so depressed......
Leaves:
One:
Sandra Bullock in Peter Pilotto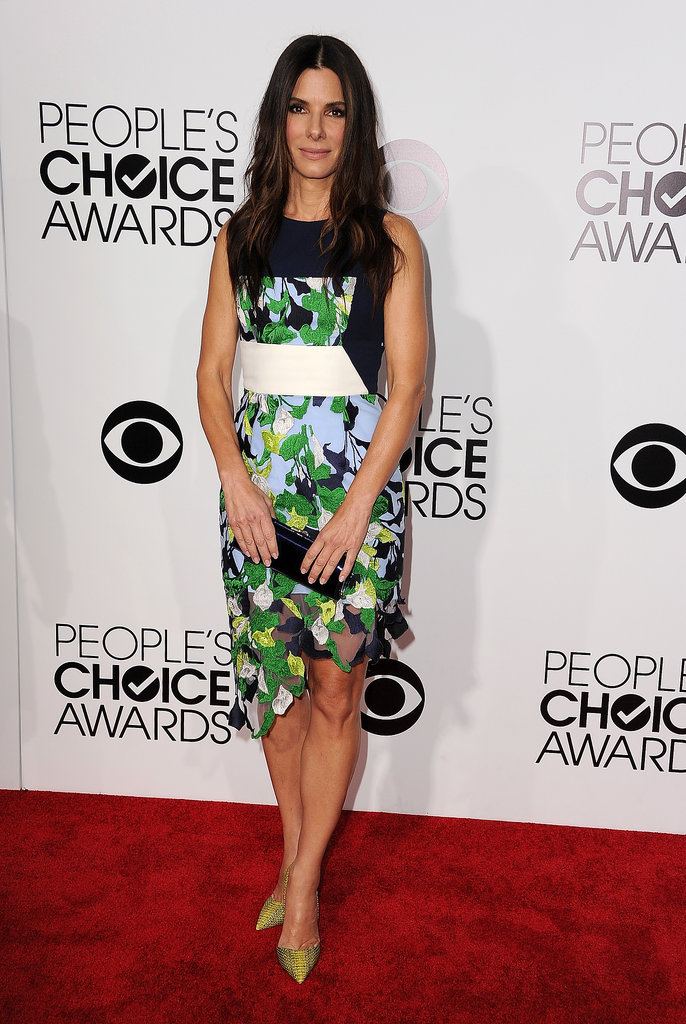 I love Sandy, I love everything she does, and I don't think she's ever going to actually age. Now that being said this is terrible, terrible in the way that it's bad for a red carpet but I'm pretty sure my amazing mom might own something similar. I just think she can do so much better, we've seen her do so much better, and if this awards season is going to be about her again she's gotta start rocking some gowns that live up to the amazing woman she is.
Two: Drew Barrymore in Vionnet
I know she's preggers, I know she's probably my favorite movie actress, but I cannot deal with this. I'm pretty sure she got this in the Forever 21 plus size section. I can't....but the red lipstick is fab
Three: Kat Dennings in David Meister
Full girl crush on this chick, full on. I love a chick who has sarcasm and a huge rack, but I also love a woman who knows how to dress the sarcasm and huge rack. Now I know this isn't terrible but for a young woman who is hosting a televised award show, I just know there's better and I want better for her. She's always showcasing the boobs, which are fantastic, but I just think that there has to be another way to go, especially because she has great legs, she has a tiny waist, I want better for her.
To me, there was no one that had a full on moment last night, but it was the People's choice awards. The girls were awesome hostesses and I don't watch the show but now I want to. I loved Nina Dobrev and Ian Somerhalder's acceptance speech, but I'm pretty sure I would love anything that came out of Ian Somerhalder's mouth....
xoxo,
me