Ok so the Golden Globes are probably my favorite awards show of the season. It's like a huge dinner party with Hollywood and includes TV and movies. The fashion had me tweeting like crazy and the show was awesome. Tina and Amy are my favorite ladies and nothing is sexier than funny chicks, right?
The fashion, I thought there were a lot of good, not a lot of great, but it to break it down a little, here we go.
Loves
1.
Cate Blanchett
in Armani Prive
I feel like she is the queen of an awards show red carpet. I mean the dress is STUNning. I can't handle the detail, and if you see the runway presentation you get how ridiculous she looks. I love the minimal but flattering accessories and the basically nude eye makeup. This dress doesn't need anything else
2. Lupita Nyongo in Ralph Lauren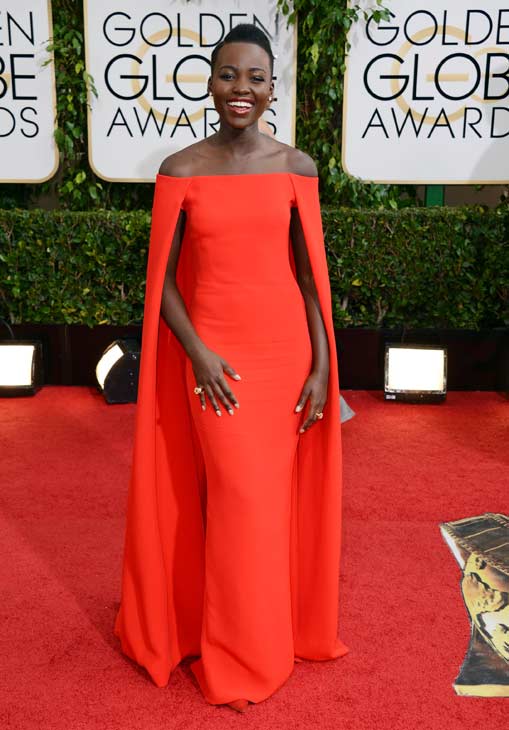 Ok, I didn't see the movie, I don't know her, but DAUYMMMMMMMMMMMM. This OWNS the red carpet. This chick took a risk with the cape, which hasn't been done since Gwenyth, and rocked it. The best parts of this dress are the fit and the accessories. The fit is could've completely ruined this look but it is fit to perfection. She could've gone nuts with a chunky necklace or huge statement earrings, but no she kept it minimal and the result is the best red carpet introduction I've seen in forever.
3. Jennifer Lawrence in Dior
There are a lot of ways this dress could've failed. With a spray tan, with weird hair, with bad make-up, and with terrible jewelry. Luckily, this is Jennifer Lawrence and it didn't. Jennifer is the face of Dior so this choice wasn't a shocker, but the strong lip, the mismatching bracelets and the EPIC earrings are my favorite. I mean I would cut her for those earrings. She was an early winner and rightfully so (even though I haven't seen the movie yet).
1. Taylor Swift in Carolina Herrera
TSwifty, this hurts me more than it hurts you. I love you for all your crazy overdramatics, your hair flips, your red lipstick at the gym but this I cannot deal with. I hate the color for you, I hate the back (theres a huge bow), I hate that this looks like what the birds and mice put together for Cinderella before the step sisters tore it apart. I want better, you need a Reese "yellow short dress with red accessories" moment.
2. Sandra Bullock in Prabal Gurung
OK, WTF, forreal why?! Someone explain to me why?! Her boobs are having a Hathaway moment and this is in no way flattering to the BANGIN body this lady has. I don't get it at all. She had some of my favorite moments back when she was winning everything for The Blind Side, I know she knows what's up, but WHY?!
3. Julia Roberts in Dolce & Gabbana
Was it just "Biggest Leading Lady Doesn't Give a Fuck" night?! I mean WHAT?! Julia Roberts is the biggest movie star in the world next to Streep and THIS is what she does?! I don't understand.
I think Amy and Tina KILLED and Tina's hair should've won some award as well. Overall the awards were better than I expected. If someone could hire Robert Downey Jr. to take over once Tina and Amy retire from this please make that happen I would be forever in your debt. Also, is there any chance I can look like Diane Keaton when I grow up?! I mean LORD.
Did the Golden Globe invites come with spray tans? I mean that in the way of me being completely jealous but trying to figure out if it was the lighting in the room or just the spray tans. TSwifty and
JLaw did not buy into this however, and who knew they were secret BFFs and texted each other?!
Thank god I didn't go to sleep early because I would've missed Mr. EMJ or as you know him Johnny Depp. I mean I'll take him any way I can get him even with the blonde hair. That's my guy and his poster is still hanging in my old room in my mom's house, I need to go get that.....
I had an extremely low key weekend, highlight was in Ikea Sunday when I was candle shopping and this lovely gay couple came over to tell me how awesome I looked for a Sunday afternoon, loved them. This week is going to be a lot, I can feel it, but I'm determined to work my ass off, and this weekend I want to be as drunk and fun as Emma Thompson was last night.
xoxo,
me